Meetings: The Swiss and friends of Switzerland in St. Petersburg - Clearwater - Tampa area of Florida meet for lunch monthly (Oct-May, see sidebar for dates) in the banquet hall at the The Club at Treasure Island, 400 Treasure Island Causeway, Treasure Island, FL 33706 – (727) 367-4511.
We also have a Spring Picnic and Luncheons celebrating August 1st, Switzerland's National Day and Christmas. Guests are always welcome.
Membership is open to persons of Swiss descent and to friends of Switzerland.
Mark Your Calendar!
Swiss Club Picnic
May 11, 2019
Lake Seminole Park, Shelter #13
Reservations Required on or before Wed the week before the event. Visit the Member area for more information about the festivities and be sure to make your reservation as they are required!
Additional meeting information can be found on the Members section of our club website prior to the event. Please check there for venue and agenda, etc.
Next General Meeting
Saturday, Apr 13, 2019 11:30 a.m.
The Club at Treasure Island
For more inforamtion visit the Members Events page.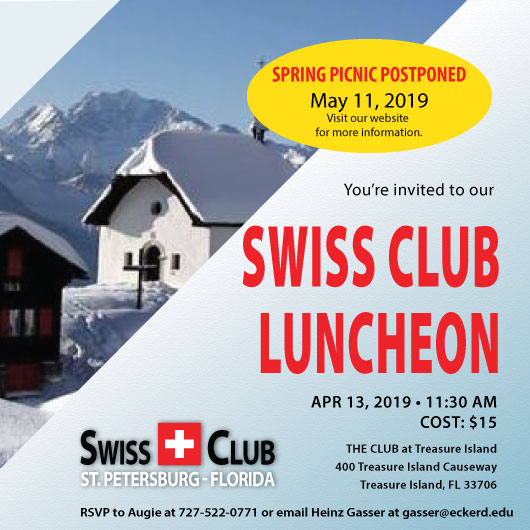 Paid up Members-and Friends/Guests $15
Note: Become an instant Paid-up Member by paying your 2017/18 membership dues now ($20/person).
---
Call Augie (727) 522-0771 to ensure your reservation or email Heinz Gasser at gasser@eckerd.edu on or before Wednesday, prior to the luncheon.
More details on the Member Events Page.
Pre-Pay now to secure your Luncheon Reservation
Standard Luncheon Reservations:
Special Event Luncheon Reservations:
---
Important Newz:
(That was a typo but I think I'll keep it. *wink*)
Third generation foreigners can become Swiss more easily from February
The grandchildren of immigrants to Switzerland will be able to access the facilitated naturalization process from February 15th, the Swiss government has said. Third generation foreigners are those who were born in Switzerland and may have spent their lives here but do not have Swiss citizenship because their parents and grandparents did not.

Until now, such people have had to apply for citizenship through the ordinary naturalization system, a lengthy and costly process.

But in February last year the Swiss public voted to allow third generation foreigners to use the facilitated naturalization system, a much simpler process usually reserved for the foreign spouses and children of Swiss citizens.

---
The 2018 membership dues are collected on or before January 31, 2018. Annual dues are $20.00 per person. For information call A. Kissling at 727-360-4352 or email membership@swissclubstpetersburg.com. To download the application for memebership click here.
---
Be sure to visit our Videos page!
---
Jan Birthdays & Anniversaries

| | |
| --- | --- |
| 11 | Ursula Wignall |
| 23 | Phil Marks |
| 29 | Heidi Wagner |

Feb Birthdays & Anniversaries

| | |
| --- | --- |
| 5 | Ginger Marks |
| 14 | Ursula Hausherr |
| 23 | Mary Wirth |

Mar Birthdays & Anniversaries

| | |
| --- | --- |
| 3 | Trudi Filippone |
| 4 | Irene Gubelius |
| 10 | Ed Snyder |
| 11 | August Stoeffler |
| 17 | Alcide Hofer |
| 20 | Steve Dante |
Note: If you don't see your birthday or anninverary listed and would like to please email webmaster@swissclubstpetersburg.com.